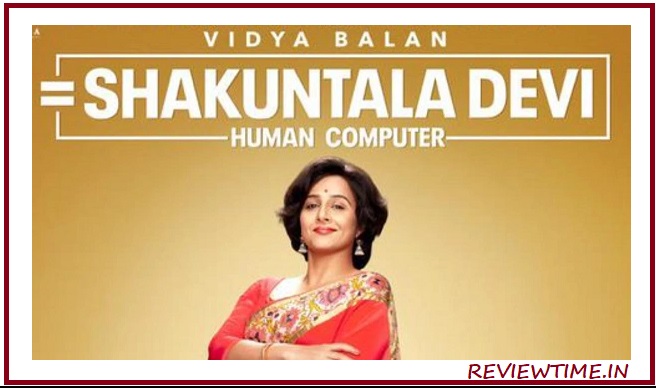 Movie Story:
Shakuntala Devi is a Bollywood biographical film based on the life of mathematical genius (human-computer) Shakuntala Devi. The film is directed by Anu Menon, with Vidya Balan playing the character of Shakuntala Devi.
In this film, Sanya Malhotra will be seen in the role of Shakuntala Devi's daughter.
Due to the pandemic spreading across the country, the director and producers of the film have directed to release it on the OTT platform. The film will be released on Amazon Prime.
Movie Cast:
Vidya Balan as Shakuntala Devi
Prakash Belawadi as Shakuntala's father
Jisshu Sengupta as Paritosh Banerji, Shakuntala's husband
Sanya Malhotra as Anupama Banerji, Shakuntala's daughter
Amit Sadh as Ajay, Anupama's husband
Movie Release Date:
Shakuntala Devi Movie Trailer:
Shakuntala Devi Movie Review:
The film depicts the life of Shakuntala Devi not only in mathematics but also as a woman and mother. Shakuntala Devi is depicted as a fearless and independent thinking woman who lives her life on her own terms. Vidya Balan's dialogue in the film 'I Never Lose, Always Remember That' may also reflect Shakuntala Devi's overconfidence, which led to her losing her Lok Sabha elections against Indira Gandhi and losing badly. In this way, Shakuntala Devi can easily solve mathematics questions but her personal life is completely confusing.
The first half of the film is completely engaged which is fun and entertaining. Vidya Balan is completely absorbed in her character and has given an excellent performance. Vidya Balan's makeover was shot extensively after moving to London. In the film, Shakuntala Devi's husband Paritosh Banerjee is played by Jisshu Sengupta and is very good in his role. Sanya Malhotra as Anupama and Amit Sadh as Anupama's husband has done justice to their characters. Director Anu Menon has shown the life of Shakuntala Devi in the film in a very honest manner. The film is well filmed in the 1950s and 1960s. The music of Sachin-Jigar is good in the film.
Why Watch:
This is not only a biopic of Shakuntala Devi but a very entertaining film.
Visit: Reviewtime.in for the latest Bollywood, Hollywood movie reviews.