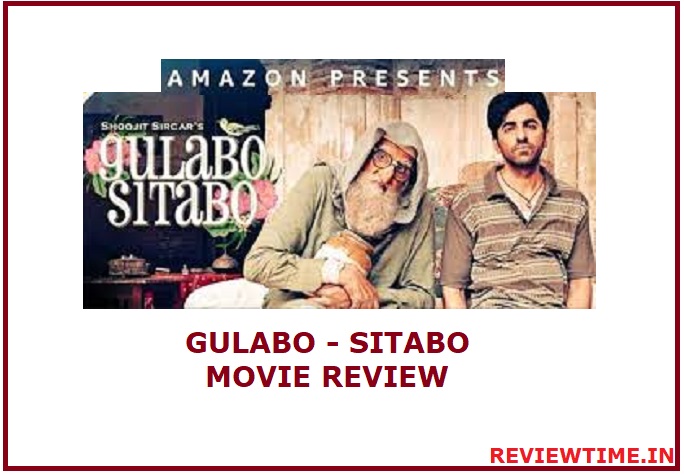 Amid the noise of cinematic lockout and the growing popularity of OTT platforms in the Corona era, the Shoojit Sarkar-directed 'Gulabo Sitabo'. It was released on Amazon Prime Video with subtitles in 15 languages in 200 countries.
'Gulabo Sitabo' will be remembered in Indian cinema for being the first film to hit theaters directly on the mobile screen. However, despite Amitabh Bachchan's excellent performance, his 'Masterpiece' will not be included in the list of films.
The stories of 'Tom and Jerry' relationship between landlord and tenant are well received in small towns and cities. Writer Juhi Chaturvedi, who wrote for Shoojit from 'Vicky Donor' to 'October', has made this relationship the center of the story this time.
Gulabo Sitabo Story-screenplay
The film's story revolves around Mirza, a 78-year-old greedy, quarrelsome, stingy, and irritable temper who lives in a dilapidated mansion. Haveli is the ancestral property of Mirza's wife Fatima. That is why its name is Fatima Mahal. Mirza is not only greedy either. Steals the old things of the mansion for money. He is waiting for Fatima to die 17 years older than herself so that she can find the mansion.
The years-old 'Girau' mansion houses many tenants, one of whom is Banke Rastogi. Banke lives in the mansion with his mother and three sisters. Has studied till the sixth and runs the flour mill shop. Banke falls in love with a girl who is pressing for marriage.
Mirza does not like Banke at all. She finds new ways to harass her and wants to evict the mansion. Juhi Chaturvedi has spent a large part of the screenplay on the plight of these two. But after a while, this tussle starts to seem dull and boring. The film does not feel like going anywhere. The twist and pace in the story come when Mirza, together with a lawyer, prepares to sell the mansion to the builder.
On the other hand, Banke plans to hand it over to an archeology department by meeting an officer of the Department of Archeology under the greed of the LIG flat. However, one of Begum's masterstrokes derails Mirza and Banke's plans, and both have to leave the mansion, for which the two were enemies of each other.
Gulabo Sitabo Acting
Amitabh Bachchan has been lengthened his nose with prosthetic make-up to make Mirza. Loose kurta and pajamas have been worn. The head has been given a round cap and the eyes have thick lens glasses. For the role of 78-year-old Mirza, Amitabh walks down his waist. Also used with voice.
It is not a challenge to play such a character for Amitabh, who is called the great hero of the century. The challenge lies in front of the writer and director. It seems Shujit could not handle this challenge properly this time. Mirza's character is not as tickling as that of Bhaskar Banerjee of 'Piku', despite the perfect getup, make-up, and precise physical gestures.
At the same time, Ayushman Khurana has worn dirty clothes to play the role of a beau of a lower-middle-class family. I have taken a little belly. Ayushmann has also changed his accent. He is quite natural in his character. It is Amitabh and Ayushmann's nappy-looking actress that has saved many scenes from piling up. Among the supporting cast, Srishti Shrivastava, Vijay Raaz, and Brijendra Kala seem to fit their respective characters.
Gulabo Sitabo Cinematography, music
The glamorous Lucknow had no place in the film's story, so cinematographer Avik Mukhopadhyay has captured the old parts of Lucknow in a camera on the best. In shabby Havelis, Nawabi chic signs are embossed. Shantanu Moitra's background score is simple, but the scenes of Haveli and Mirza have music and lyrics playing in the background. The good thing is that the tradition of needless lip-sync songs is now decreasing in the Hindi cinema.
Gulabo Sitabo Direction
Shoojit, who directed Amitabh Bachchan in 'Piku' and Ayushman Khurana in 'Vicky Donor', dagged in 'Gulabo Sitabo'. Despite good acting and technical aspects, Gulabo Sitabo does not appear to be a complete film. While watching this film, again and again, Shoojit's films 'Vicky Donor' and 'Piku' continue to knock in the mind, who had a humorous departure in every frame. Gulabo Sitabo proves to be weaker than them.
In the last scene, it is shown that the antique chair that Mirza sells from Haveli for Rs. 250, is put in the showroom to be sold on the same chair with a tag of Rs.1,35,000.
Gulabo Sitabo Trailer
Gulabo Sitabo Songs
Madari Ka Bandar
Jootam Phenk
Kanjoos
Kya Leke Aayo Jagme
Do Din Ka Ye Mela – Reprise
Budhau – Reprise
Do Din Ka Ye Mela
Budhau
Gulabo Sitabo Theme
Gulabo Sitabo Movie Review
The 100-year-old mansion in Lucknow is in its dilapidated condition and has reached the verge of a breakdown. Many families live in this mansion on rent for a nominal amount of Rs 30-70. There is only one 'worm' among everyone else whom neither pays nor goes from there and that is – Banke, who always has the same excuse – I am poor.
Mirza is the angriest of them all. He is a 78-year-old, mischievous man. Mirza has only one desire to become the legal owner of that mansion and is always engaged in this endeavor. In the midst of all this, Banke breaks the common toilet wall one day, after which Mirza arrives at the police station to dispose of this mess.
Meanwhile, the entry is of Mr. Ganesh Mishra (Vijay Raj) of the Archaeological Survey of India (Lucknow Circle). Ganesh is a clever bully officer who realizes that this shabby ruins can become a national heritage property (maybe not even). He conveys to Banke how his plan can prove to be better for him (Banke) and the rest of the tenants. … but Mirza is also not stupid and he also throws his secret Pasha (Brijendra Kala), who specializes in solving the property's loopholes.
Now, these ruins have become the base of fighting, why the ruins ready to disintegrate have become more important than the people living here? Shoojit Sarkar's 'Gulabo Sitabo' is a satire on the thinking of society and people.
Gulabo Sitabo Movie Audio Jukebox
The dialogue and screenplay of Juhi Chaturvedi are full of skill and gaiety, which can show the characters' whimsical and fun negative character on screen. Mirza, in which there is tremendous greed about this property and he does not sit silent about it. Banke is a poor boy. Banke is burdened with the responsibilities of his family. He seems ready to go to any extent to annoy Mirza.
Another strange couple in the film is Mirza and Fatima Begum (Farooq Jaffer), who have been living separately for 15 years, a marriage that has its own bizarre story. Although the scenes of Mirza and Fatim are quite short in this film, it would have been more fun if it were a little more.
We get to learn from the story that it is okay to want more in life, but too much greed does not take you to the right place. Be it any one's heart, home, or palace.
Why see:
Amitabh Bachchan and Ayushmann Khurrana's bonding is seen together for the first time. Apart from this, if you want to enjoy a funny story related to a small town, then you should watch the film.
For the latest Bollywood, Hollywood Movie Reviews: